The Ronald McDonald House
New Hyde Park, New York
The Ronald McDonald House
New Hyde Park, New York
_______
Manhasset-based kitchen & interior designer

Vasi Ypsilantis of Vasi Ypsilantis Design Associates

and owner of Poggenpohl Long Island, along with Sea Cliff-based interior designer Margreet Cevasco of Margreet Cevasco Design, partnered with Mitco Construction on Phase II, Project Design 2014, of the Kitchen & Dining renovation for the Ronald McDonald House of Long Island (RMH-LI), a respite for families of seriously ill children, located at 267-07 76th Avenue in New Hyde Park.
This is the second year the design duo poured their heart and soul into the Kitchen & Dining area renovations at the Ronald McDonald House Long Island. Project Design is an effort led by Kravet Fabrics along with the interior design industry to provide a calm and restful healing environment for families experiencing the pain of having a child in area hospitals.
Phase II includes an expanded 1,600 square foot open Kitchen & Dining area which has been transformed into a universally accessible living environment that's spacious enough for multiple families to cook and dine simultaneously, while offering an uplifting and comfortable feeling.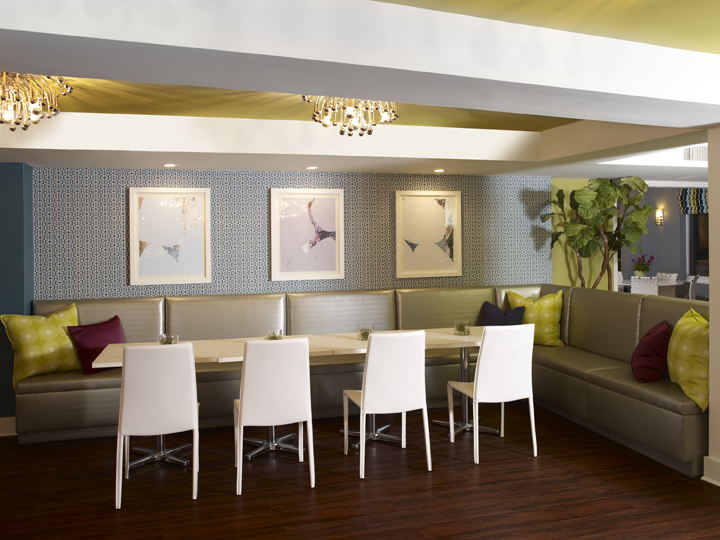 The contemporary space features several design and architectural details that accentuate the room and offer a dramatic outcome: the enhanced coffers created to offset low drop ceilings, energizing green wall color, whimsical chandeliers, cerulean sliding pantry doors that make a bold statement alongside classic white European frameless cabinetry and state-of-the-art stainless steel appliances.
The kitchen layout functions to support both cooking, storage and eating at any hour of the day or night and multiple integrated appliances complete the design. Additional shelves were built-in to the expanded pantry so each family can store grocery items.
"Our combination of design and contracting expertise enhances the project's creativity and functionality, since Margreet and I both employ a similar design aesthetic. Teaming up on renovations can be a challenge, but we've enjoyed 10 years of successful showhouse projects, residential renovations and endearing friendship. We share the same goal which is to make these dream kitchens and living spaces a reality for parents and families who are seeking the comforts of home,"
_______
Yasi Ypsilantis – Creative Director